We got through breakfast with two induction plates, managing to make everything on the menu… but would we be back on for lunch? Let alone our fully booked dinner service?
By 4pm we had to accept defeat of our optimism, and call all our guests for that night, and break the news we wouldn't able to serve hot food other than soup and fries… We lost 75% of our bookings that night. Steaks and Catch of the Day, destined for the freezer, to minimise stock losses.
In Gorey we are maxed out on our electricity supply of 100amps. That means we can't just switch to induction. Whilst we have wanted to do so since we took over The Moorings, the limited supply means that's not an option. So all we were able to add to our existing kitchen facilities without tripping up our whole supply, was the two induction plates from breakfast. Now, breakfast is one thing, an a la carte dinner or Sunday lunch is another….
We had to be quick on our feet. Ten minutes to 5 we were in Ransoms Garden Centre buying a fire pit BBQ- after all we had a Sunday lunch to get through. And it now turns out, the fire pit isn't just getting us through Sunday, but probably up to a week or more of being disconnected. Like everything we do, it's a team effort. And that includes the kids. First thing on Sunday morning we were stocking up on fresh shellfish to supplement our existing stocks.
The new Sunday menu had been created the night before…We felt confident we could offer a good alternative without letting people down. And our wood-fired BBQ Sunday lunch was a success!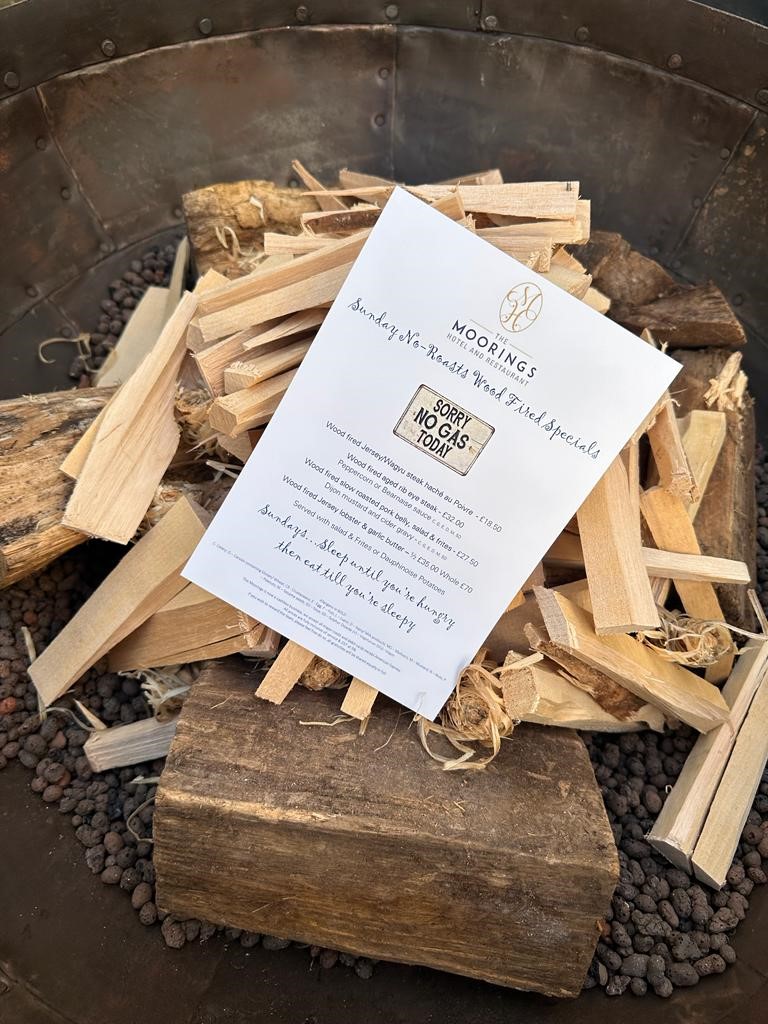 Would we have gas by Monday?
By Monday we'd delivered another breakfast and mostly cold lunch service. Although, by the afternoon the hope of Gas coming back on Tuesday was officially shattered. We're now looking at a phased return from Wednesday (scratch that, Thursday and beyond!).
There's a distinct possibility that we might not be cooking on gas still by this weekend, but we promise whatever happens we'll continue to reinvent how we deliver excellent food.
Monday night was a case in point. We were determined to honour a pre-booked dinner for 20, and we did! The team delivered an excellent Delicious Jersey menu, and the review we had this morning was the boost we all needed this week!
"We had a visiting group from around the world and thought taking advantage of a lovely evening in Gorey at the Moorings was a great way to show them local produce in a lovely setting. Despite the gas outage, the full Delicious Dine Out festival menu was served (all cooked over fire and induction hobs!). I can thoroughly recommend it, the hen's egg was perfect and the lobster spaghetti with a bit of chilli was fantastic! Our guests found the food great and it was a great end to their trip to Jersey. Thanks to all at the Moorings for keeping going despite the challenges this week – thoroughly recommended!"
So please keep coming, don't even think about cancelling any reservations you've already made- because if anything we are probably working even harder than normal to deliver a good experience.
If you are thinking about coming out over the next few days, whether it's for breakfast, lunch and dinner- we are very much OPEN. Please know that we are still serving the same quality food as always, some menu items may be adapted or not available- but there is and will be plenty of choice.
And you will make a real difference by coming- to all of us.
With love and gratitude as always.
Matthew, Iselin and The Moorings Family Team